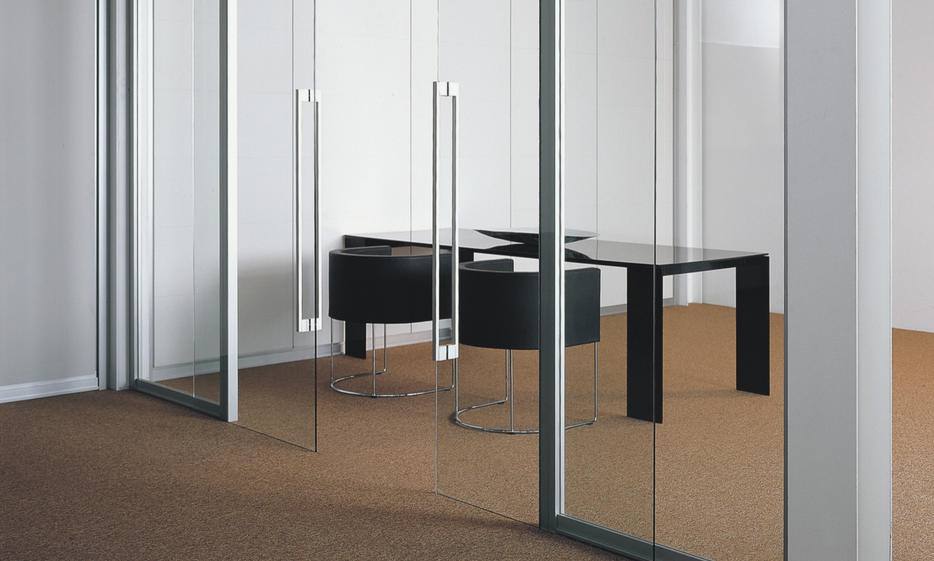 divilux® has over 25 years of experience in the manufacture and installation of interior partitions for offices and commercial spaces.
Among several options, designed for different office topologies and team organization, divilux® has three main ranges of interior partitions: metrica®, unica® and cubica®. The customer has the possibility to quote solutions that integrate one or multiple ranges in their projects.
Modularity is precisely one of the critical points of the interior partitions provided by divilux®. metrica® d (highlighted in the image above) is a type of customizable acoustic partition, which allows the design of transparent meeting rooms, with total isolation from outside noise, while preserving the visual contact between the different sectors. of the work environment.
Form and function are provided by interior partitions in tempered glass, or laminated with bronze anodized aluminum profiles. The glass corner joints bring lightness and luminosity to the entire composition. Roles and positions are distributed at different levels in order to enhance their individual value and the overall hierarchy of the composition.
See more: divilux® – System metrica®
In this second image, we exemplify an elegant integration of two lines of divilux® interior partitions. The composition is based on the exclusive VETROLEGNO panel, from the unica® line, in addition to the cubica® range cabinets – the ideal combination to satisfy all needs in the organization and division of space.
Minimalist design, lightness and robustness, in two solutions, to offer transparency and luminosity. The beauty of glass and the warmth of wood combine to define the environment with a subtle monolithic element.
See more: divilux® – System unica® and System cubica®
These are just two examples, among a myriad of cutting-edge solutions that divilux® has in its catalog of interior partitions. Contact us today and customize your office interior to your company's requirements!